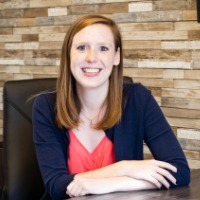 Sam has always considered herself to be ambitious. In fact, she had a pretty solid career plan in mind even when she was a child.
"Real estate was something I always wanted to pursue ever since I was little," she said. "My life plan for myself was to get a degree, work in the web development field, and then switch into real estate later on down the road."
She started with the degree at Appalachian State University (a bachelors in computer information science), but once she graduated, she decided that web development just wasn't for her anymore. "
This enabled me to get an early start in my real estate career, and I have never looked back," she said.
The thing that Sam loves most about the job is being able to meet new people every day. She gets to meet interesting people, and the job is never the same. She loves being able to help people meet their real estate goals, whether it is buying their next home or selling the one that they are in to move on to the next phase in their lives.
When she's not working, Sam loves to go to the beach or the mountains, enjoying the fresh air and the beautiful scenery. Sam is an identical twin and enjoys spending time with family.